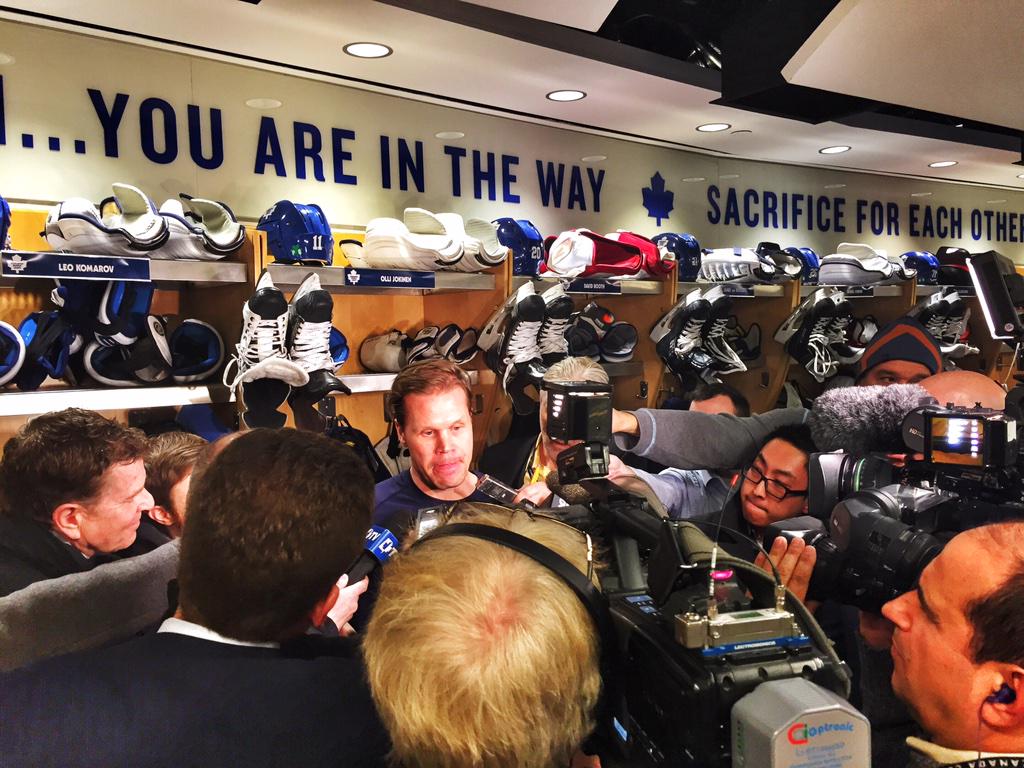 "Welcome to the Jungle"
Instagram/@Strombo
The Toronto Maple Leafs made big news Sunday by trading defenceman Cody Franson and forward Mike Santorelli to the Nashville Predators in exchange for a first round pick, prospect Brendan Leipsic, and veteran forward Olli Jokinen.
Moving past the shameless plug, a growing subplot in the deal was how the NHL's first place Preds let go of Jokinen, who at 36, has only played six career games in the post-season (2009, where a Calgary Flames squad coached by Mike Keenan lost to the Chicago Blackhawks).
Six. For someone with over 1200 regular season games, the idea of leaving a Stanley Cup contender and going to a bottom-barrel team leading up to the trade deadline is horrifying. The reality is even worse.
Let's just say Olli Jokinen was less than thrilled to hear he had been traded to the Leafs.
— Darren Dreger (@DarrenDreger) February 15, 2015
Six. Six minutes of Jokinen's first interactions with the Toronto mainstream media (well, technically six minutes and six seconds, but who's counting?). He tries to rectify the situation, the classic "I get to experience playing for an original six team", but throughout the scrum, you can tell he's not happy. It's the first glimpse of someone who's joining a team that's 4-20-2 in their last 26, and is actively trying to worsen their lineup to have a chance at one of the top picks in this year's draft.
The only benefit for Jokinen in this situation is that the move took place two weeks before the trade deadline -- March 2nd -- which gives him six games to show playoff-bound teams around the league that he would help their lineup. Six nights where an opportunity to centre the likes of Phil Kessel or James van Riemsdyk or Joffrey Lupul just kidding he might not make it to March or Daniel Winnik could help him prove to be a more-than-capable piece for someone who needs help down the middle.
People, Olli freakin' Jokinen is a Maple Leaf, we need to get behind this. The next two weeks could be the most fun we've had all season. We get to see someone who has recorded 91, 89, 71, and multiple 60 and 50 point seasons throughout his career. While he's nowhere near the top-tier centre he was nearly a decade ago, six games is a small enough sample size where any player can get hot.
Not to mention, if he produces, the Leafs get to ship him somewhere for a mid-to-late round pick. You hear that? A sixth rounder for a guy who's salary you took on to secure a first rounder and a half-decent prospect in another trade.
"My success is your success" -Olli Jokinen
This situation could work out for all parties involved if Jokinen makes an impact with the blue and white. For a season that's felt lost since Randy Carlyle's firing, here's an opportunity to have something to look forward to. Most of the roster has been cold the past few months, so the addition of a player who already has the more career points than anyone else in the lineup might be the jolt needed to find some offense.
In his first game as a Leaf -- tonight against the Florida Panthers -- Jokinen will be slotted between fellow countryman Leo Komarov and David Clarkson on the third line. Don't be surprised if head coach Peter Horachek rotates his centres at any point, trying to find some sort of chemistry if they're unable to generate anything early on.
Leaf fans should be hoping for immediate results from their newest acquisition. Y'know, in a losing effort, of course.
Hunter Crowther covers sports for several different websites and currently studies journalism in college. You can follow him on twitter @HunterCrowther or email him at hunter.crow@hotmail.com